The Beatles - Eight Days a Week The Touring Years (2016, 2xBlu-ray)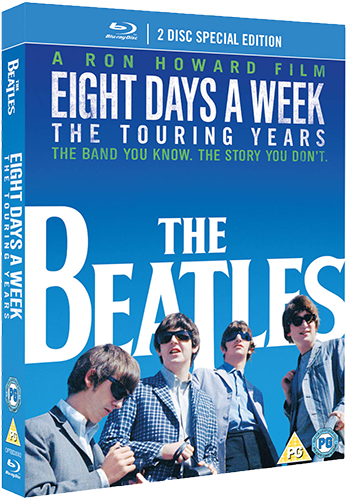 Title:
The Beatles - Eight Days a Week - The Touring Years
Year of release:
2016
Genre:
Rock, dokumentation, historie, musik
Released:
StudioCanal, Polygram Entertainment, Apple Corps, Imagine Entertainment
Director:
Ron Howard
Cast:
The Beatles, John Lennon, Paul McCartney, George Harrison, Ringo Starr, Wuppi Goldberg, Elvis Costello, Eddie Izzard, Sigourney Weaver, Neil Armstrong
Tracklist
:
No, there's nothing particularly revelatory here. But director Ron Howard, who put together the 2013 Jay-Z concert pic Made in America, catches the exhilarating kick of Beatlemania as the band toured 15 countries from 1963 to 1966. Everything is here, from the band's hysteria-making American television debut on The Ed Sullivan Show to Lennon's controversial remark that the Beatles "are more popular than Jesus." Paul McCartney provides context: "By the end, it became quite complicated. But at the beginning, things were really simple." True, that.
In fresh interviews, McCartney and Ringo Starr offer comments that Howard joins to archival observations from John Lennon and George Harrison. There are hints at what soured the Beatles on live performance (crowd frenzy, crappy amplification) and pushed them toward in-studio experimentation. The Far Four claim their bond got them through, wondering how Elvis did it alone. Sweet trumps bitter as viewers revel - through concert footage and fan-sourced clips - in the youthful sights and sounds that peaked at Shea Stadium in 1965. Whoopi Goldberg offers her own teenage testimony, recalling how her mother took her to see that Shea concert. "They were colorless," says Whoopi, who felt like she "could be friends with them."
Howard backgrounds the doc in an era of civil rights, pointing out that the Beatles refused to play to a segregated audience in Jacksonville, Florida. They integrated the Gator Bowl. Still, the documentary rightly keeps coming back to the music and the band's delight in making it. Good move. It truly is a joy forever. --Peter Travers, Rolling Stone
BD1
1. Don't be nervous, John
2. She loves you
3. Where are we going fellas?
4. Twist and shout
5. Number 1 in America
6. All my loving
7. The guy who got us famous
8. I saw her standing there
9. We wrote on the road
10. Can't buy me love
11. You can do that
12. The fantasy version of the Beatles
13. Roll over Beethoven
14. 25 cities in 30 days
15. Boys
16. The studio was our little haven
17. Doing a film again
18. Help!
19. Everybody's trying to be my baby
20. The biggest show of them all
21. Dizzy miss Lizzy
22. More experimental
23. Nowhere man
24. The Beatles circus
25. Don't let me down / I've got a feeling
BD2
1. Words & Music
2. Early Clues To A New Direction
3. The Beatles Live 1963-1965
4. A Deeper Drive
5. An alternative opening for the film
6. Credits
Quality:
2xBlu-ray
Video:
MPEG-4 AVC Video / 32500 kbps / 1080p / 23.976 fps / 16:9 / High Profile 4.1
Audio:
English Dolby Digital Audio / 5.1 / 48 kHz / 640 kbps
Audio:
English LPCM Audio / 2.0 / 48 kHz / 2304 kbps / 24-bit
Audio:
English DTS-HD Master Audio / 5.1 / 48 kHz / 3572 kbps / 24-bit
Total Size:
55.96 GB
Total Time:
01:45:52, 02:39:44
Download Hoster: filefactory.com, rapidu.net, hitfile.net, rapidgator.net, turbobit.net
Kod:
Treść widoczna tylko dla zarejestrowanych użytkowników.
Zaloguj się lub załóż darmowe konto na forum aby otrzymać dostęp działu "Free download".
Pass: 689